Contact us
We love to share our story and knowledge about beer. If you would like to talk please message us at info@longslice.com.

Please addresse the mail to the appropriate team in the subject.
Sebastian - Director

Jimmy - Head of Marketing

John - Brew Master

Veronica - Director Supply Chain

David - Sales Manager
---
Longslice Brewery in Numbers
Brew house in the
CANARY DISTRICT
neighbourhood of
TORONTO, ON
---
Ontario Brewering Awards
---
Brand identity
Longslice Brewery is a fun loving company! We love a good pun or a quick tonguein- cheek zinger! This attitude is reflected through our use of colourful beer cans and bold social media marketing. Want to learn more? Click below:
---
Media assets
Click images to download.
Logo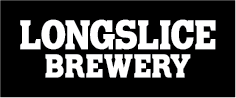 Logo usage
The Longslice Brewery logo has it's own unique font which should never appear in copy other than in the logo itself. The black and white logo stands to contrast and should never be coloured. The logo should never be stretched or distorted.

Minimum size: The Longslice logo should never drop below the width of one inch for print or a minimum screen resolution of 100 pixels by 41 pixels

Isolation area: At a minimum, the Longslice logo should have a relative space of isolation around it equal to the width of the letter L in the logo.
Gallery