Brite Nite, a thank you to our community.
---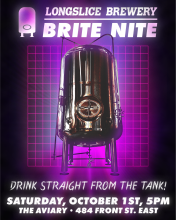 Longslice Brewery is hosting Brite Nite at The Aviary on October 1st.

Download PR_brite_nite.pdf
(563.08 KB)
About Longslice
We like to joke but we don't kid around our commitment to making only the best quality ales and lagers. With his passion for beer and nerdiness for organic chemistry, our head brewer John is constantly refining his process to achieve the best possible flavour and consistency..
We brew on a 20BBL two-vessel brewhouse, with four 40BBL fermenters and a 40BBL Brite. We also have our own canining machine. This allow us to brew and package in house making sure each beer has the quality expected.
We offer a large variety of beers. Check out all our beers on the e-store.