Kick off your Caribana weekend at Longslice Brewery! We're celebrating the release of our new collab beer, Sip Sip Guava Mango Pale Ale on August 4th at 6PM.
Come try our new beer and our Caribbean themed food specials from our Kitchen and our guest Chef! From 9PM we have DJ RON JON spinning all the best soca, reggae, afrobeats, hiphop, and R&B!

See event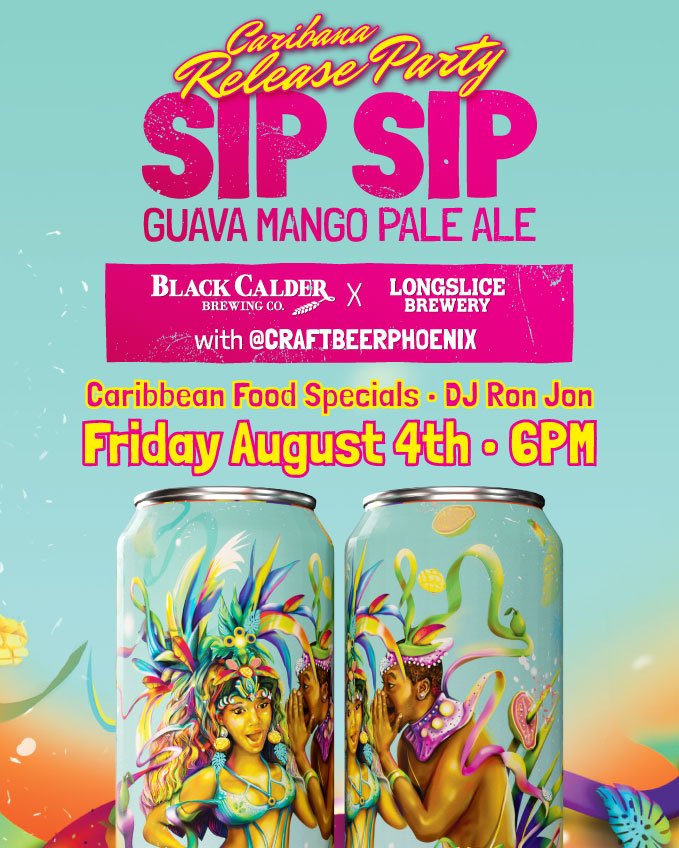 SIP SIP, A BEER TO BRING PEOPLE TOGETHER.
Sip Sip, is the meeting of Jimmy from Longslice Brewery, Terry from Black Calder Brewery, both introduced by Meoshi Nottage (@craftbeerphoenix). Quickly, the two breweries agreed to do a summer collab beer. To thank Meoshi, who made this collab possible, the beer would celebrate the Caribbean culture, Meoshi's culture.
Togetherness is important to Caribbean culture, that's why we want to throw a release party that will bring everyone together, Longslice fans, Black Calder fans, Meoshi's followers, the Canary District community and everyone who wants to celebrate! Making everyone feel welcome, and building community, that's what Sip Sip is all about!
Brewed with Pink Guava and Mango, two locally grown fruits in the Caribbean, this fruity Pale Ale is the perfect patio beer. And, what are the chances?! Sip Sip is released just in time for Caribana!
So join us for our Caribana Release Party on August 4th at 6PM. There will be Caribbean Food Specials, live DJ, and cold beer!

See event
Sip Sip is available at Longslice's Bottle Shop inside The Aviary.
You want to bring the Sip Sip Party home? Sip Sip will be available at Longslice Bottle Shop inside the Aviary or online at LONGSLICE.COM.
Sip Sip is a limited edition, so make sure to come before they're all gone.
We'll take this promo opportunity to mention the amazing can art from Natasha Pelley-Smith! Her fusion of Jamaican heritage and passion for beer served as a wellspring of inspiration, amplified by the collaborative ideas and prompts from Longslice, Black Calder Brewery and Meoshi.
Natasha really brought up the colourful and playful artwork of "Sip Sip" to life with these two Mas Players gossiping. That's right "Sip Sip" means gossip in the bahamian culture ;-)