"What's The Dill" Cool Ranch Sour
5% alc./vol. | 10 IBU
What's the deal with What's The Dill? It's a light, herbal, German style sour beer brewed with sea salt, dried onion and garlic, fresh dill, and a tonne of lactose. It goes great with The Aviary's #Tonawanda Fire wings ! Dip into the party and clinch the deal!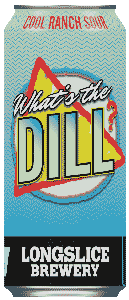 Order What's the Dill? now!

---
What's YOUR Dill? It's April Fools' Day! You fool!
Even if we were super excited to see Jimmy pour ranch sauce from a can on his hot chicken wings, we're not crazy enough to brew What's the Dill?

We ARE crazy enough to brew a piece of cake in a can though... Try Cake It 'Til You Make It. It's the beer equivalent of licking the spatula after icing a birthday cake. Try it, it's really good and it's really real!