(H)Opera Revue: Brunch, Beers and High B's.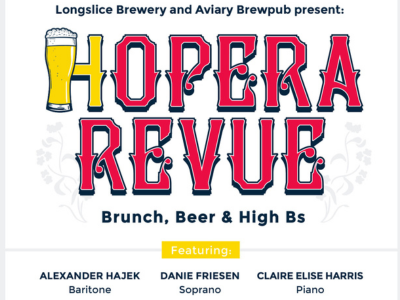 Delight your ears while exciting your taste buds! Opera Revue will be performing at Longslice Brewery on April 29th at 1PM (Doors at 12:30PM) for a special Opera Brunch. Featuring Danie Friesen: Soprano, Claire Harris: Piano, and Alexander Hajek: Baritone.
Eggs Benny with a side of baritone? Your ticket includes a brewery tour with one of the founders of Longslice Brewery, your choice of any item on The Aviary Brewpub brunch menu, a Beermosa and the incredible performance of Opera Revue.
About Opera Revue
Opera Revue began with the question "Why does opera get such a bad rap?". They came up with several answers: It's expensive. You have to dress up. It's snobby. You can't drink, except during intermission. You can't talk. It's snobby. You can't get up and move around. And it's snobby.

Opera Revue have set out to change! Opera Revue perform opera and art song in a casual bar setting (just like Longlsice Brewery). At the Opera Revue Brunch on April 29th, please feel free to talk, drink, and eat delicious Brunch from The Aviary Brewpub.
Either you're new to opera or you're an opera lover, come enjoy an amazing and fun experience at Longslice brewery for (H)Opera Revue: Brunch, Beers and High B's on April 29th at 1PM (doors at 12:30PM). Quantities are limited, so get your ticket sooner than later!
Longslice Brewery: a space for the community.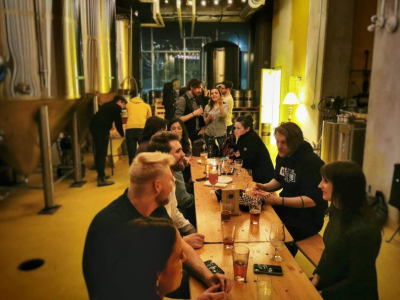 Longslice brewery is a local business in the Canary District, in Toronto. Longslice Brewery wants people to feel empowered to be themselves - no matter what colour, shape, or form that comes in. Longslice Brewery brews great-tasting and quaffable lagers and ales at affordable prices, but not only... Longlsice encourage and support community organizations and local artists by providing a space to celebrate local!
Support local and enjoy a unique experience at (H)Opera Revue: Brunch, Beers and High B's.