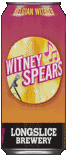 Oops! We did it again... We brewed another one-off. WITney Spears is a Belgian style Wit brewed with coriander and orange peel. It comes on sweet and citrusy but has a nice bready finish.
One sip of WITney Spears will have you singing, "WIT me baby one more time!"
5.0% alc./vol.
10
7
Canadian 2-Row, Wheat Malt
Herkules (Germany)
---
Order online now!