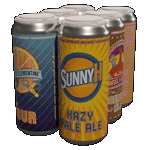 Try a little bit of this and a little bit of that! The Tallboy Mixer Pack comes with a tall can of each:
Hänsel und Kettle Gingerbread Ale
Sunny H Hazy Pale Ale
Princess Clementine Sour
Cherry Sploosh Craft Seltzer
Loose Lips Lager
Hopsta La Vista IPA
---
Currently out of stock. Check back soon!