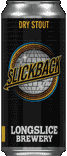 Smooth, dark, and roasty; Slickback is our classic dry Irish Stout. We didn't reinvent the wheel here. We just made a really, really good beer. If you've got a fever, and the only cure is smooth-drinkin' stout... then it's time to sip back a Slickback!

Bronze - Ontario Brewing Awards 2021
---
5.0% alc./vol.
27
37
Canadian 2-Row, Flaked Barley, Roasted Barley
Herkules (Germany)
473mL Cans, Growlers, 30L Keg, 50L Keg
---
Order online now!