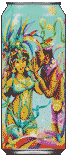 LIMITED RELEASE!

Sip Sip is a new collab beer between Longslice Brewery, Black Calder Brewing and Meoshi Nottage.

"In the Caribbean, emphasis is placed on togetherness, making all feel welcome, and building community. As such, I introduced the owners of Longslice & Black Calder Brewing knowing they could create something special. We will release this beer at Caribana because there is no bigger party in Toronto celebrating Caribbean heritage. I named it 'Sip Sip' a Bahamian colloquialism, to spread the word of the spirit of the people Caribana encapsulates. We hope you enjoy it with every Sip Sip!"
- Meoshi, @craftbeerphoenix-
5.5% alc./vol.
30
9
2-row barley, white wheat, flaked oats, and caramel 30.
Citra and Sabro.
---
Order online now!