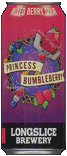 The daughter of the Blueberian King and the Duchess of Brambley, she sits as successor to the Great Berrylandian Empire. Sworn protector of the realm, she's a master of 'Mixed-Berry Martial Arts'.
Brewed in her honour and made with a blend of raspberries, blueberries and chokeberries; this beer is tart, jammy, sour and very tasty.
5.0% alc./vol.
10
12
Canadian 2-Row, Wheat Malt
Herkules (Germany)
473 mL Cans
---
Order online now!