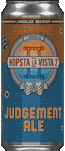 Brewed from the smelted gold medals of Hopsta La Vista to form a mimetic hoppyalloy... H2!
Really though, it's a smooth, juicy, West Coast style double IPA. It takes the form of a lighter beer, but be careful! H2 comes in at 8% ABV!
8.0% alc./vol.
30
9
Canadian 2-row, Vienna Malt
Cascade (US), Chinook (US), Centennial (US)
473mL Cans
---
Order online now!