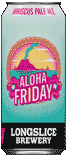 This is the luau your taste buds have been waiting for! Blending fruity Azacca hops with the tropical punch flavours of hibiscus flowers, Aloha Friday is the perfect beer to kick off your weekend get together!
4.8% alc./vol.
40
12
Canadian 2-Row, CaraPis
473 mL Cans, 30L Kegs, 50L Kegs
---
Order online now!