Spring has already sprung, but April is the month when the city really starts to transition into those warmer months. Bring on those warmer temperatures! We put together a list of some cool things happening around the city this month to get you out of hibernation mode. Grab a group of friends and hit up the town this month.

For some reason, as soon as Canadians emerge from hibernation they hit the ground running. Literally. There are a few long runs happening around the city so if you've been training all winter for an endurance race, here are some that will be happening this month.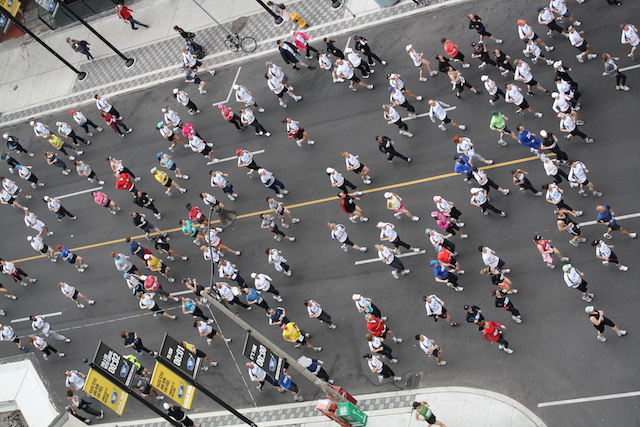 Great Friday at the Brewer's Backyard: You can run the full 15K or join in later in the race at different starting points. Those running for the long haul will begin at Evergreen Brickworks with a tasty, bubbly beverage. The fine folks at Evergreen want to make your Good Friday great!

MEC Road Race Two: Starting at Coronation Park in along the waterfront, take part in the 5K, 10K or 15K, depending on your fitness level. Sponsored by the outdoor gear company, expect coffee, bananas and a lot of high-fives from MEC staff.
In Conversation: Margaret Atwood: The Handmaid's Tale was written over 30 years ago, but it is a very relevant picture of a modern dystopian society. It is now a television series and what better way for fans to show their appreciation than to meet the author in person. She will be signing books and discussing the story at Indigo Eaton Centre.

Record Store Day: Show your love for vinyl records and stop by your local shop to cop some sweet deals. The vinyl record stores around the city are notorious for shelling out hot deals on some wax in celebration of this day.
Earth Day: We live on an epic planet that has some of the coolest things happening in our solar system. Right now, it's a bit of a hot mess, so why not show it a little love on Earth Day. It should be loved every day, but raising awareness for the planet even one day a year can make a huge difference.
Toronto March for Science: If you love science and appreciate all things in this department, meet in Nathan Phillips Square and march for the cause. Certain policies are pushing this community out of the labs and into the streets. Join in the march if you want to support the scientific community.
Pipeline Protest: The people are gathering to protest 3 pipelines that are underway throughout Canada and the US. A lot of press has been covering these oily issues and so many people have responded. If you would like to join the cause, head to Queen's Park at the end of the month to defy oil and push for renewable energy. Or, if the pipeline is your thing, this is one area of the city you might need to steer clear of.

Toronto Coffee and Tea Expo: For all those hot beverage lovers out there, get your fill of brewed java or tea at this event. Vendors will be pouring in from all over just to serve you their latest concoctions to date. Get your buzz on.

And this is just a small fraction of the many things that are happening around the city. If you have been hibernating for the past three or four months, April is the month you should start getting outside.